Online Repertory Workshop
50 Looks
Choreography: Merce Cunningham
The Merce Cunningham Trust's first online repertory workshop is open to anyone and everyone. 50 Looks is a long series of still positions. It can be done by people of all ages, with or without formal dance training, and is suitable for small, confined spaces. Sessions Available Now.
Participants are invited to share videos of themselves dancing the solo. Tag us: #merce50Looks. Or email us at info@mercecunningham.org
About 50 Looks:
Merce Cunningham choreographed 50 Looks in 1979. The earliest version of the dance is a 42-minute black-and white video, made by Charles Atlas, of Cunningham performing the solo in silence, on a small stage at the back of his Westbeth studio. An abridged version of the solo was later incorporated in the 1981 dance Gallopade in a section called "50 Looks with Poses." Cunningham also danced a version of 50 Looks in Events beginning at least as early as November 1981.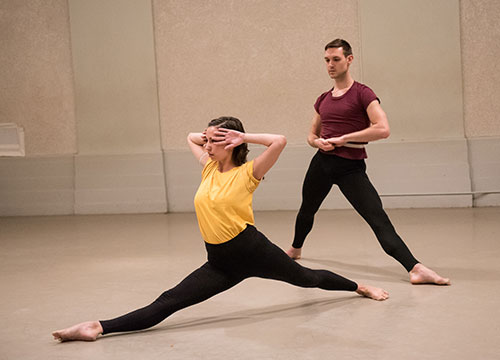 Tess Montoya and Benny Olk in the Crises workshop. Photo by Ian Douglas 2014
Fellowship Workshops
Intensive multi-week workshops during which dancers learn a complete Cunningham dance. Participants are chosen by audition and invitation.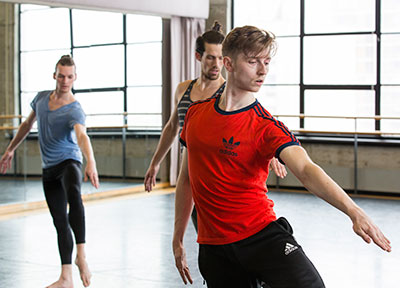 Forrest Hersey, Kyle Gerry, and Andrew Harper in rehearsal for the Fabrications workshop. Photo by Janelle Jones 2016
Repertory Workshops
Short-format workshops during which sections from one or several Cunningham dances are taught. Participants are chosen by audition for our week-long workshops and our three-day workshops are open to all, simply requiring a reservation.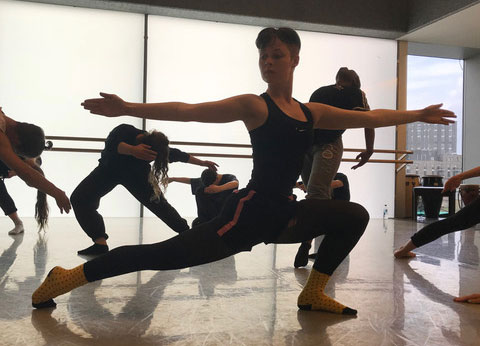 Trinity Laban students rehearsing MinEvent. 2018
Chance Procedure Workshops
Focus on exploring the practical and philosophical aspects of using chance procedures to develop choreographic material.